My Blog
Posts for: January, 2021
By Carolina Smiles, LLC
January 13, 2021

Dental patients have amazing options for tooth replacement. Dental implants, for example, can replace the entire tooth, root and crown, giving patients a new tooth nearly as good as the old one.
Nearly—but not exact. Even implants can't match the full benefits of a natural tooth, including one in less than perfect shape. Our first goal as dentists, then, is to save a diseased tooth if at all practical before considering replacing it.
That often involves a root canal treatment to address decay threatening a tooth's interior. The procedure requires drilling into the tooth to access its innermost pulp, cleaning out the pulp and root canals, and then filling the empty spaces. Since all dentists are trained in basic root canal treatment, your general dentist may be able to perform it.
But some dental situations call for more advanced endodontics, the dental specialty for treating disease and other problems inside a tooth. So, in what situations would you see an endodontist?
When your dentist refers you. Your dentist wants you to receive the level of treatment necessary to save your tooth. After examination, they may determine your situation would be better served by the advanced training, equipment and techniques (including surgery) of an endodontist.
When your tooth has complications. Patients often need an endodontist when existing factors complicate treatment of advanced tooth decay. A patient may have dental pain that's difficult to pinpoint, requiring the diagnostic resources of an endodontist. It's also common for a tooth's root canal network to be highly intricate, and which respond better to treatment with specialized endodontic tools and techniques.
When root canal treatment fails. Most root canal treatments are successful in protecting the tooth from further infection. That said, it's still possible for a root-canaled tooth to become re-infected or develop more problems. Again, an endodontist and their "tool chest" re-treating a root-canaled tooth may be the best option for saving it.
You also don't have to wait for a referral—you can see an endodontist if you believe they would be best to treat your decayed tooth. You can find one near you by visiting an online endodontist directory at www.aae.org/find. An endodontist may be the lifesaver your diseased tooth needs.
If you would like more information on saving a tooth through endodontic treatment, please contact us or schedule an appointment for a consultation.
By Carolina Smiles, LLC
January 03, 2021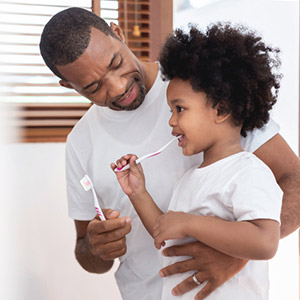 As they mature, your child's teeth, gums and jaws develop—if all goes well, they'll all be healthy and functioning normally when they enter adulthood. But tooth decay and other problems could derail that development and cause lingering oral health issues later in life.
Following these 4 guidelines now during your child's early years will help ensure their teeth and gums have a healthy future.
Start oral hygiene early. There's no need to wait for their first teeth to come in to begin your child's regular oral hygiene. Start with wiping their gums right after feeding with a clean wet cloth to minimize bacterial development. Then, start brushing as soon as teeth appear—to begin with, use a slight smear of toothpaste on the brush. As they mature, teach them to brush and later floss for themselves.
Check your water. Most utilities add tiny traces of fluoride to their drinking water supply. If your water supplier does, it can make a big difference (along with fluoride toothpaste) in helping your child avoid tooth decay. If your system doesn't, then speak to your dentist about whether your child could benefit from topical fluoride applied directly to their teeth.
Keep a check on sugar. Decay-causing bacteria thrive on the sugar added to processed foods, candies and many beverages. Even milder forms of sugar like lactose found in milk or formula can stimulate bacterial growth. So, in addition to daily brushing and flossing, do your best to minimize sugar in your child's diet. And don't put infants or toddlers to bed with a bottle filled with any liquid other than water.
See the dentist. Starting around their first birthday, regular dental visits can help keep your child's dental development on track. Dental visits are also an opportunity for preventive treatments against decay like sealants or topical fluoride. Your dentist may also detect the early signs of bite problems that if addressed now, could lessen their impact later in life.
Your child's dental health could get off course before you even realize it. But partnering with your dentist, you can help make sure your child's teeth and gums have a bright and healthy future.
If you would like more information on how best to care for your child's oral health, please contact us or schedule an appointment for a consultation. You can also learn more about this topic by reading the Dear Doctor magazine article "Top 10 Oral Health Tips for Children."